Halo sobat blogger sekalian. Pada kesempatan kali ini saya akan share sebuah software pengganti paint. Dengan software ini sobat dapat menggambar dengan lebih mudah dan praktis, karena di dalam software ini terdapat fitur - fiitur yang cukup lengkap dibandingkan dengan paint yang biasa kita pakai. Software ini memiliki lebih dari 1000 macam jenis brush yang bisa kita gunakan untuk menggambar dan mewarnai serta tampilan yang super friendly yang membuat kegiatan menggambar kita menjadi lebih mudah dan praktis. Langsung aja kita ke ss
Screenshot
: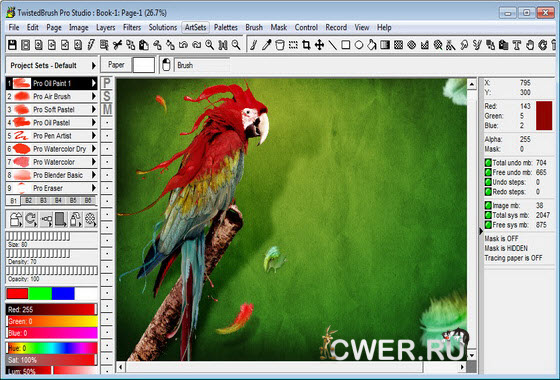 Description :
TwistedBrush has more than 5,000 brushes available, along with all the features that artists love to use: layers, realistic media, photo cloning, tracing, masks, particles, filters, script recording, scripts to AVI, drawing tablet support, brush shapes, patterns, textures, Adobe compatible plug-in support, integrated scanner support, image brushes, drawing guides, reference image views, dirty brushes, scratch layer, dynamic palettes and a whole lot more.
TwistedBrush runs on all versions of the Windows operating system and is designed for all realms of digital art.
What's new in 19.17
:
Added - Direct zoom levels 1600% - 8% added as Quick Command button options.
Fixed - Low memory cases could result in a crash when using the filter preview area option.
Fixed - Using the Org (organize) button on the Layers panel could result in the Scratch layer being moved when it should not.
Fixed - Many of the Scribbler brushes were not working properly.
Fixed - The Pro Nu Scribblers 2 and Pro Nu Scribblers 3 were not working properly on layers.
Fixed - Don't allow the Warp tool to be used on an invisible layer.
Fixed - The Lua filter command paint_text could result in a crash. Note: The paint_text command is non-operational unless a font is first selected via the Text tool.
Fixed - Pressing cancel on the Acquire (scanning) could result in being unable to exit.
Fixed - When scanning an image the page was not redrawing to show the new page size.
Download :
Download

|

Pixarra : TwistedBrush Pro Studio 19.17 F

ull

(Installer + keygen

)(28.3 MB)
Download

|

Pixarra : TwistedBrush Pro Studio 19.17 Full (

K

eygen

only)(568 KB)
Link Status : Active

Last

checked on 6/3/2013
Enjoy and thanks for coming! \(^.^)

/
Sumber : Dytoshare